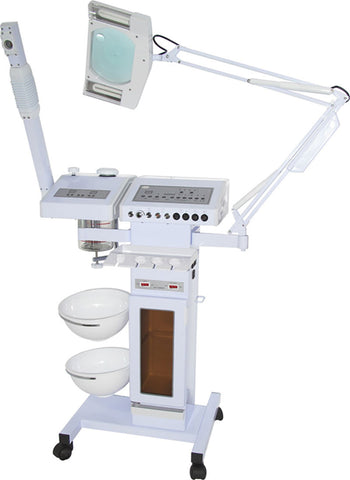 12 in 1 Multifunction Facial Machine
FREE SHIPPING
12 in 1 Multifunction Facial Machine with Digital Timer.
Key Features:
Vacuum -

This offers deep skin cleansing, thus bringing any impurities to the skin surface making it easy for them to be extracted.


Benefits:

Deep cleansing of the skin pore.
Spray -

It soothes and cools the skin. It facilitates dermal absorption.


Benefits:

It provides deep moisture and supports products into the skin.
High Frequency - 

High frequency facial machine helps to improve blood circulation, increases metabolism and glandular activity. It also generates heat within the tissues and supports deep product penetration into the skin.


Benefits: 

It fights against acne and any other skin infections as well as killing bacteria.
Facial Brush - It has a system of rotating brushes and includes several attachments that are designed to achieve different purposes. It is lightweight and easy to handle and convenient to use with a shaft hook-up for easy access.
Benefits:

It gives you that soft, enjoyable massage while deep cleansing the skin to get rid of any debris or dirt.
Magnifying Lamp -

It is made up of optical lens with a cold lamp tube that emits soft light. It makes it easier for you to detect acnes and dark spots. It is very useful for skin analysis and skin treatments.
Facial Ozone Steamer - 

This machine cleanses and moistens your skin. Steaming makes the pore expand and improves blood circulation. It comes fitted with an extensible arm that allows for a wider facial steaming. This facial steamer is equipped with an alarm and timer.


Benefits:

Skin cleansing and moisturizing. Steaming causes pore expansion and improves blood circulation. The ozone version of steam improves cell oxygenation.
Galvanic - 

The galvanic facial machine works on the principle of positive and negative current pulling. It works in sync with cations and anions to nourish the skin. It balances the pH of the skin – the degree of acidity and alkalinity. It also improves the circulation of blood within the skin.


Benefits:

It uses sonic vibrations that help to minimize lines, leaving your skin smooth but firm.
Hot Towel Cabinet - This is used to warm towels making your clients very comfortable.
UV Sterilizer- 

It makes use of UV rays to help sterilize viruses and bacteria on electrodes, brushes, glass, scissors and other accessories.
Towel / Tool Basins -

An easy and convenient way to store your towels, and other accessories.
Ultrasonic -

Ultrasonic facial machine stimulates skin tissue, restores collagen and improves the cell membranes. It helps to reduce facial wrinkles making you look younger. It produces frictional heat which stimulates blood circulation. It improves muscular relaxation, cellulite decomposition as well as allows products to deeply penetrate the skin.
Woods Lamp -

It uses deep penetrating violet light to reveal skin conditions that are invisible to our naked eyes. Various skin conditions are seen in varying shades of violet. For instance, a dehydrated skin appears as light violet while a skin that is hydrated appears as bright fluorescent violet.


Benefits:

Skin can be viewed under UV light for effective skin treatment.
Details:
SKU46505
1 year full warranty
Total weight: 90 lbs
---
We Also Recommend
---