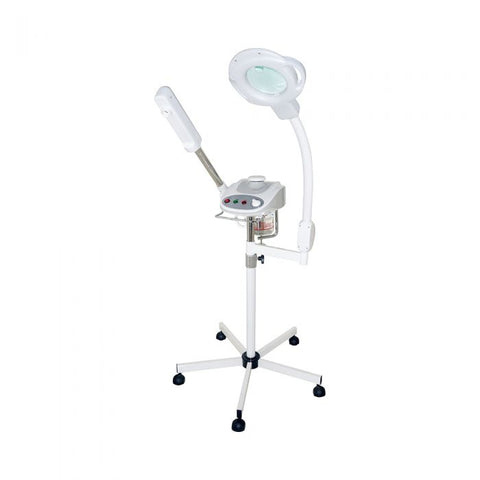 Facial Ozone Steamer & 5 Diopter Magnifying Lamp
Facial Ozone Steamer with Timer and 5 Diopter Magnifying Lamp:
 Extract those impurities buried deep in your pores with an ozone facial steamer and magnifying lamp. Steaming softens facial skin, opening up the pores in a gentle manner, therefore making it easier to wash away dirt. Our ozone facial steamer with magnifying lamp comes equipped with a 24 oz beaker and a moveable 5 diopter magnifying lamp. The lamp provides a 225% larger view of the skin's surface area. The small and lightweight device is only 38lbs. Included is an option to manually switch to the Ozone setting that provides sterilization to the face. Also, the ozone facial steamer with a knob timer can be set up to 60 minutes.
Features:
60-minute timer with a reduced noise timer 
Option to choose between regular steamer or ozone steamer
Durable material made to last
Includes a 24 oz beaker
Details:
SKU46151
Weight: 27.00 lbs
Model: M-2006A
1 Year Limited Warranty
30 Day Money Back Guarantee 
---
We Also Recommend
---