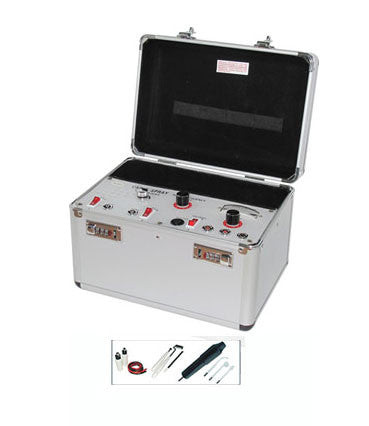 4 in 1 Multifunction Skin Care System (High Frequency, Vacuum, Spray, Galvanic)
If you already know you want your salon or spa to offer a wide variety of facial treatments, consider investing in this fully-featured 4-in-1 Skin Care System. This 4 function facial spa machine offers Vacuum, High Frequency, Spray, and Galvanic treatments that give your practitioner a wide variety of tools to make your clients look and feel amazing. Providing equipment for your estheticians that offers a multitude of flexible options for treatment is a great way to streamline your services and save money over time -- and this galvanic skin care machine is a great way to do exactly that.

Function Descriptions:
Skin Pore Vacuum - Dirt and oil don't just reside on the surface of facial skin: they burrow deep within, and the only way to fully remove these unwanted particles is by vacuuming them out via a relaxing and deeply penetrating suction treatment. The included skin pore vacuum will improve circulation and minimize the appearance of your clients' wrinkles.
Spray - Every good esthetician knows the importance of having a spray device on-hand. Used in between rounds of treatment (and before beginning treatment), this feature allows the practitioner to get a clean canvas, so to speak, as initial layers of oil and dead skin can be sprayed away before beginning deeper treatment.
High Frequency - High frequency facial devices are incredibly popular in the spa and salon world. From invigorating, high-current treatment for experienced clients or those needing stronger treatment, to a mild and relaxing current that soothes while it oscillates, the high frequency options on this device give total flexibility to your esthetician.
Galvanic - The galvanic treatment options in this device are just as robust as any standalone galvanic facial machine, allowing you to convert an oscillating current from an electrical outlet into a direct current and let the electrons flow through the device tip. This relaxes your clients while targeting nerve endings and improving the client's overall facial appearance.
Details:
SKU46519
Weight 15.00 lbs
Warranty Information:
1 Year Warranty
30 Day Money Back Gaurantee
---
We Also Recommend
---