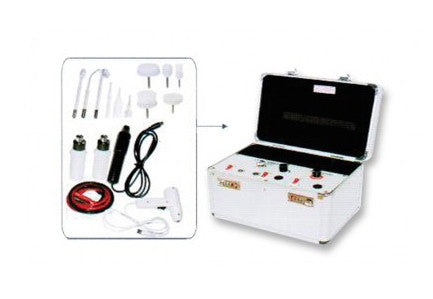 4 in 1 Multifunction Skin Care System (High Frequency, Vacuum, Spray, Ultrasonic)
4 in 1 Multifunction Facial Machine with High Frequency, Vacuum, Spray and Ultrasonic
At Top Spa Supply, we offer a variety of Multifunction Facial Units in several different configurations to best meet your practitioners' specific needs. This particular 4 in 1 facial machine unit comes with High Frequency, Vacuum, Spray, and Ultrasonic capabilities.
Function Details:
Vacuum - A vacuum facial machine is a critical tool in any esthetician's arsenal. You'll use this powerful vacuum attachment to deep-cleanse pores by massaging and suctioning away grime, dirt, oil, and other unwanted foreign bodies that contribute to wrinkles and blemishes.
Spray - Facial spray for estheticians is one of the most frequently used items in the entire spa or salon. The practitioner typically will use the spray attachment before beginning treatment and in between each round to ensure that no residue or product remains on the client's skin before proceeding to the next round of treatments.
High Frequency - High frequency skin care treatments are an extremely popular option at many high-end spas and salons these days. It's a cutting edge approach that leverages thermal action to stimulate and/or relax the client while simultaneously killing germs and re-energizing the treated area. This unit allows for a wide variety of current options to ensure that the client can receive the desired level of power from the treatment.
Ultrasonic - Ultrasonic facial machines are capable of producing powerful acoustic vibrations that have been shown to regenerate collagen, and thereby produce younger, tighter looking skin. As a result of the ultrasonic treatment, blood circulation improves -- and causes the client's general appearance to look healthier and more revitalized.
Details:
SKU46507
Weight 10 lbs
1 Year Warranty
30 Day Money Back Guarantee
---
We Also Recommend
---