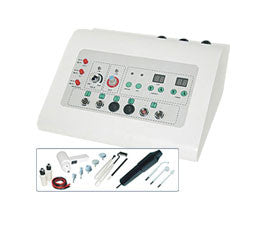 5 in 1 Multifunction Skin Care System (Vacuum, Spray, High-Frequency, Facial Brush, Galvanic)
This 5 in 1 facial machine provides five of the most-requested esthetician treatment options in one powerful unit. If you were considering purchasing any of these treatment units individually, consider investing in a multifunction unit like this one to increase efficiency while saving resources.
Function Details:
Vacuum - Vacuum functionality is one of the main spa facial supplies that your estheticians will require. The vacuum works as you'd imagine: it suctions away dirt, grime, and particles from pores to improve blood flow and overall clarity and appearance of the client's skin.
Spray - Along with the vacuum, a powerful spray attachment is one of the essentials when it comes to providing an effective treatment for your clientele. The spray is used to prep and wash away everything from detritus to cream residue before and in between treatment rounds.
High Frequency – If you're looking to buy a high frequency facial machine, consider getting that option as part of a multifunction unit such as this one, instead. High frequency treatment is an incredibly popular aspect of modern spa and salon treatment that uses a gentle current to deep treat skin tissue and clear away stubborn particles from deep within pores to provide a younger, fresher appearance. This unit allows for fine-tuning of current strength to adjust to what the individual client prefers.
Rotary Brush Unit - This 5 in 1 unit has a facial cleansing brush as part of a quiet and lightweight rotary unit. This brush is strong enough to achieve powerful exfoliation, but gentle and quiet enough to keep the treatment feeling peaceful for the client.
Galvanic - A galvanic spa machine works in two main ways: by using electrical current to deep clean skin through revitalization; and to embed your high quality creams and lotions deep within the skin tissue to achieve long-lasting, immediately visible results.
Dimensions:
Details:
SKU SKU16313
Weight 15 lbs
1 Year Warranty
30 Day Money Back Guarantee
---
We Also Recommend
---