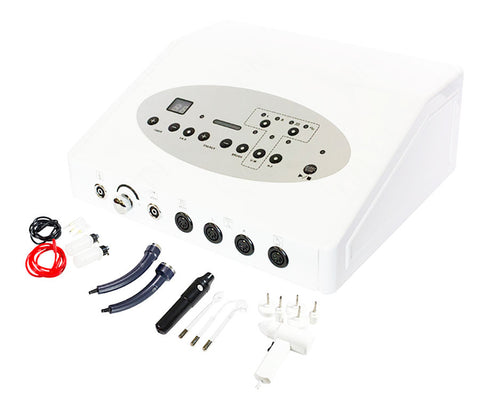 5 in 1 Multifunction Skin Care System (Vacuum, Spray, High Frequency, Ultrasonic, Brush)
This powerful 5 in 1 Multifunction Facial Machine & Skin Care unit comes with a configuration of Vacuum, Spray, High Frequency, Ultrasonic, and Brush options.
Function Details:
Vacuum - Instead of purchasing a separate vacuum facial machine, you can get full vacuum functionality with just one attachment on this unit. The vacuum is used to suction away harmful and blemish-causing particles from pores, improving blood flow and overall appearance.
Spray - The face mist spray is a fundamental part of every esthetician's routine while treating a client. The spray needs to be powerful and reliable to work between each round of treatment, clearing away excess grime and leftover cream and lotion residue from the previous facial work.
High Frequency - High frequency facial machines are all the rage right now, and with good reason. Found in nearly all high-end salons and spas, the high frequency attachment allows the esthetician to send a gentle current through the client's skin that clears stubborn particles from deep within the tissue and vastly improves circulation. Importantly, you'll be able to finely adjust the current to anything from gentle and soothing to powerful and invigorating, depending on the client's needs.
Ultrasonic - A good ultrasonic facial machine will produce powerful acoustic vibrations to trigger collagen regeneration and freshen the skin's appearance. The frictional heat that's generated as a result will result in younger, tighter looking skin that will keep your clients coming back for repeated treatments.
Rotary Facial Brush - Any professional grade facial brush for estheticians should have certain features, such as a rotating brushing system and a wide variety of attachment. This unit comes with those needs and much more. Lightweight and quiet, this rotary facial brush will provide high quality results for your client without disturbing the peaceful nature of the treatment process.
Dimensions:
Details:
SKU46317
Weight 13 lbs
1 Year Warranty
30 Day Money Back Guarantee
---
We Also Recommend
---