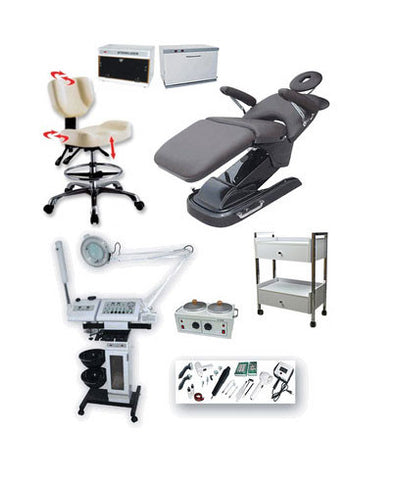 Elite+ Spa & Salon Equipment Package
$4,39900

$4,399.00

Save $1,100
---
---
Ready to get started building or expanding your spa or salon? This is the salon equipment package you're looking for. Our Elite+ package comes with some of the core products that any spa or salon owner needs to offer their guests a modern, fully-featured facial and dermabrasion experience. Best of all, we're willing to work with individual salon owners to tailor this package to your individual needs, so make sure to contact us during your purchase process for the ideal customer experience!
Items Include:
15 Function Unit With Microdermabrasion

Trolley with Two Drawers

Hydraulic Aesthetic Stool with backrest

Sterilizer

Fully Automatic 4 Motor Bed

Hot Towel Cabinet with UV

Double Wax Warmer
For detailed information about each item contained in the Elite+ package, please refer to their individual product pages, or call our knowledgeable customer service department today.
Details:
SKU46226
Weight 398.00 lbs
1 Year Warranty
---
We Also Recommend
---